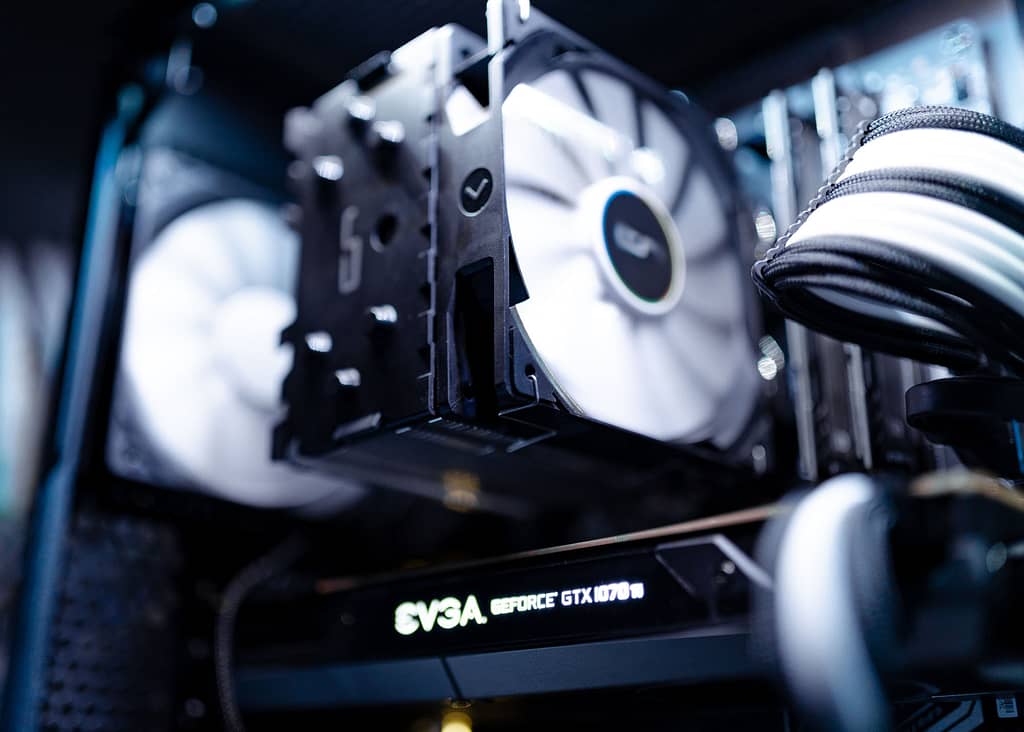 As computer hardware technology advances, it becomes essential to have sound cooling systems in place to prevent overheating and hardware failure. One of the main components of a cooling system is the case fan, which circulates air throughout the computer case to cool down the components inside. 
In some cases, it may be necessary to adjust the speed of the Case & CPU fan to improve the cooling performance. However, not all computer motherboards support fan speed control through the BIOS. 
So, how to change case fan speed without BIOS? In this article, we will explore some methods that can help you to change the case and CPU fan speed without BIOS.
There are 2 best ways to change case fan speed without bios:
Are you tired of the noise your computer Case and CPU fans make, but don't want to go through the hassle of accessing your BIOS to change their speed? Fortunately, there are several ways to change your case fan speed without going into your BIOS. In this article, we will go over five methods that can help you adjust your fan speed without any BIOS access. 
Method No:1 Use Fan Control Software
The first way to control your fan speed without accessing the BIOS is by using fan control software. The software will allow you to manage your computer's fan speed, control overheating, and manage noise levels. Here are some popular fan control software:
1: Fan Control
Fan Control is one best software pack features developed by Remi Mercier. Which helps you to change case fan speed without BIOS.
The software control case, GPU, and CPU fans.
Fan Control's user experience is very clean and simple, so everyone can easily manage their Case fan speed, temperature, and noise without accessing the BIOS.
Fan control display temperature of GPU, CPU, Motherboard, and Hard Drives.
According to the creator of Fan Control, you should be able to create custom temperature sensors with sensor files for more customization, so you can create multiple profiles.
Features:
Guided setup process
Low on resources, High on power
Mix fan curves or sensors
More temperature sources
More fan functions
Get Your Fan Control Software Now!
2: Speed Fan
SpeedFan is the most popular software by Alfredo Milani, which helps you to control and manage fan speed and temperature. This software uses hardware monitoring chips on the motherboard, which let us see the readings of computer components, Which include Fan speed, voltage, and CPU temperature.
SpeedFan is easy-to-use software, finding the options on the menu will not be difficult for those who know what they are looking for.
Features:
Temperature Sensors
Hardware Sensors
Fan Speed Control
Hard Disk Monitor
Remote Access
Download your Speed Fan Software Now!
3: Easy Tune 5
By using EasyTune 5, you will get a lot more tools to monitor and manage your case fans' speed. This software has more useful features for you than maybe you are looking for.
In EasyTune 5, you can set the speed of your case fans to work according to your CPU temperature to avoid overheating. Also, you do not have to set the threshold too high, if you are doing this you will prevent your CPU from getting enough airflow it needs to work properly.
Features:
Smart fan control
CPU overclock
CPU Intelligent Accelerator (C.I.A)
Memory Intelligent Booster 2 (MIB2)
Method No:2 Use Hardware Fan Controller Device
Another way to change case fan speed without BIOS is by using a hardware fan speed controller. This device is placed in between your computer's power supply and your fans, allowing you to manually adjust their speed. Fan speed controllers come in both manual and automatic fan controller versions, and they can be purchased at most computer stores and online like Amazon.
External fan controllers come in different types, including fan hubs, fan splitters, and fan controllers with a digital display. These devices allow you to connect multiple fans and adjust their speed individually or as a group.
Here are some of our device recommendations you can check:
CORSAIR iCUE COMMANDER CORE XT
If you are a PC enthusiast or gamer, then may be looking for the latest and greatest technology to enhance your gaming or PC overall experience. Corsair iCUE Commander is one of the most popular and feature-packed controllers to change case fan speed without BIOS, along with that you can also control the RGB lights using this device.
This device comes with excellent software to easily control your fan speed with RGB light control for different components.
You can control up to 6 PWM fans and RGB lights by using Corsair iCUE Commander. It also has 2 sensors to monitor your computer temperature.
Installation:
Installing the CORSAIR iCUE Commander CORE XT is a simple process that you can complete in a few steps. Firstly, locate an available USB 2.0 header on your motherboard and connect the device with a cable included. Mount the device in a suitable location using the included adhesive backing or screws. Connect your PWM fans and RGB lighting to the device's headers, and then download and install the CORSAIR Commander Pro software to customize your fan and lighting profiles.
Pros
Turns your case into a smart case
Control up to 6 Fans
Control up to 6 RGB lights
Zero RPM mode 
Custom fan and lighting curves Set up
Temperature Monitor
Cons
Requires a USB 2.0 header on the motherboard
Noctua NA-FC1
The NA-FC1 is a flexible controller for 4-pin PWM fans that can work both manually or automatically with motherboard fan control. Unlike most external fan controllers that are voltage-based, the Noctua NA-FC1 uses the Pulse Width Modulation (PWM) technique to efficiently regulate fan speed.
It also has no stop mode which prevents the fan from falling below a speed of 300rpm. It has a 3-way split cable, so you can connect up to 3 fans to control them together. It is a small and easy-to-use device that offers great functionality, including an automatic fan controller, manual control, and silent mode.
It comes with 6 years of manufacturing warranty, its the sign of best quality and excellent longevity.
Installation:
The Noctua NA-FC1 is easy to install, as it fits into a 3.5-inch drive bay. To install the fan controller, you have to remove the front panel of your PC and slide the NA-FC1 into an available drive bay. Once you install the controller on your computer, you have to connect your fans to it using the cables provided. The device is compatible with all 4-pin PWM and 3-pin fans.
Compatibility:
The Noctua NA-FC1 is compatible with all the fans available in the market. It is also compatible with all Noctua CPU coolers, as well as many other CPU coolers that use 4-pin PWM fans. This device is also compatible with most of the motherboards, as it uses a standard 4-pin PWM fan header.
Pros
No stop mode
Silent mode
Power supply adaptor to save your motherboard
Automatic Fan Controller
Customizing motherboard fan control
Conclusion
These are the two best and most popular devices you can use to control or change case fan speed without BIOS.
If you have a budget, I will recommend you to use one of these devices it has a lot of features and user-friendly devices that you can easily manage. Furthermore, if you do not have a budget or do not want to spend on this, you can download the latest version software from the official website that I mentioned above.
However, it's important to remember that altering your fan speeds can have a significant impact on your operating system performance and stability. Always make sure to monitor your CPU and GPU temperatures closely and adjust your fan speeds accordingly to prevent any damage or instability.
Overall, taking control of your case fan speeds can help you optimize your computer's performance and extend its lifespan. With the right tools and knowledge, you can ensure that your operating system stays cool and runs smoothly, no matter what you use it for.